About Us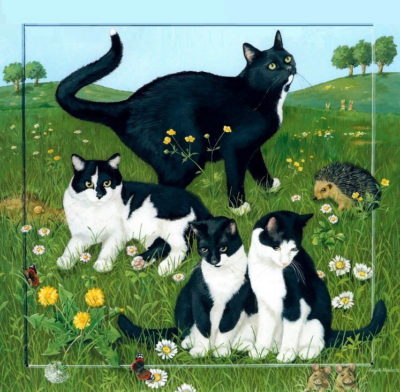 We believe you are what you eat, so why not feed your cat the way nature intended
With a home prepared cat food you always know what's in the bowl, because you put it there. Making your own raw meat cat food at home gives you the most control over what goes into your cat's food. It takes a little time, but it's worth it. And we are here to assist you to safely prepare the best cat food for your cats next to mice.
The raw meat diet is a concept reflecting cats' instinctive needs, and the ideal diet for our feline friends would resemble that of wild living cats. Cats are strict carnivores. They meet their nutritional needs entirely by consuming other animals, a variety of small prey animals, such as rodents. Since such foods are hardly an option for feeding the family cat, a raw meat diet prepared by using TCPremix offers a practical and satisfactory alternative to the cat's natural diet of prey.
Tatzenladen is a small, family-run company, and our business has steadily grown by word of mouth. We are located in the very north of Germany at the border to Danmark. Since 2005 we have been operating our own production facility for the manufacture of TCPremix, a powdered premix for making homemade cat food, organic liver powders and all-natural, grain-free premium cat treats. In addition, we are distributing cat food supplements for raw food enthusiasts to customise their own homemade, raw meat based cat food. All our products are carefully sourced and contain only the highest quality ingredients.
We are concerned about the welfare of animals and the environement and therefore wish to grow our business in an ethical way. For this reason, we are certified organic and a member of Biokreis, a German-based organic food label.
If you have any questions, please contact us and let us know how we can help you. Thank you for your visit and enjoy your stay!
With best wishes from all of us at Tatzenladen