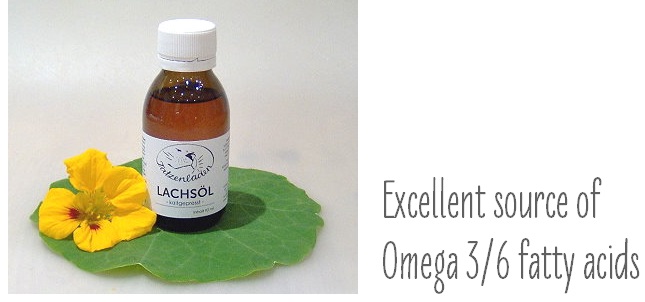 Salmon Oil is considered to be valuable for the health of cats because it is a rich source of omega-3 and Omega-6 fatty acids. Essential fatty acids can help improve the ratios normally found in domestic meat animals and provide some extra health benefits. Essential fatty acids also tend to reduce inflammation in the body.
Salmon Oil offers many well-documented health benefits to cats.
Traditionally, salmon oil is used:
as an anti-inflammatory
to relieve dry itchy skin
to promote heart health
to promote a strong immune system
Ingredients
100 % pure salmon oil, gently cold pressed and with added vitamin E to preserve the oil's natural balance.
Our Tatzenladen cold-pressed salmon oil is prepared with minimal processing. to preserve the delicate omega-3 nutrients and oil quality. Unlike some other fish oil products, it has a pleasant, mild taste and smell and is very well liket by most cats.
Typical Analysis
Unsaturated fatty acids 50,8 %
Polyunsaturated fatty acids 32,2%
Omega-3 Fatty Acids 19,6 %
Omega-6 Fatty Acids 12,6%
Recommended use
Best administered by mixing with your cat`s food. Typical dosage for cats 1/2 teaspoon/per day.
Please refrigerate after opening.