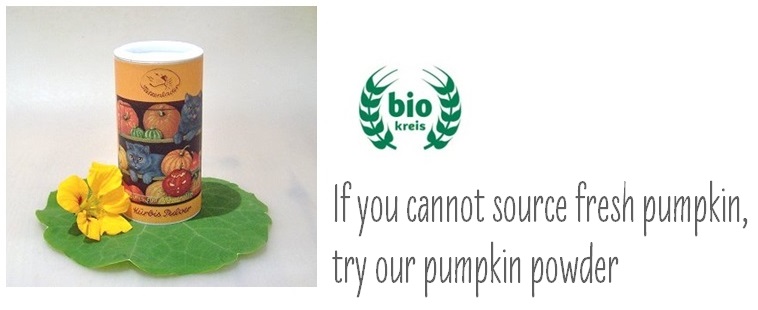 Pure pumpkin is a wonderful, natural source of fibre
If your cat is constipated, the fibre in the pumpkin will help to soften stools. If your cat is experiencing diarrhea, the fibre in the pumpkin will help absorb the water in your cat's digestive system which will make the stools firmer. Once food is digested and nutrients are absorbed through the walls of the small intestine, the "waste material" with the undigested fibre is passed into the colon. The major role of fibre in the diet is to increase bulk and water that are found in the intestines.
If you cannot source fresh pumpkin, try this alternative. Our pure Hokkaido pumpkin powder is very well liked by most cats. The Hokkaido pumpkin is of human-grade food quality, pre-cooked and gently freeze-dried. Simply add water and mix into the cat food. No preservatives, fillers, or additives.
Recommended use
Replace 3-5% of your cats daily diet. Please don't overdo. Always increase fibre levels slowly, while monitoring your cat. Cats that receive high fibre ingredients may develop diarrhea. 90 gram of our Tatzenladen pumpkin powder equal 450 gram of fresh pumpkin.
Please note: If your cat has been suffering with constipation or diarrhea for more than 24-36 hours, you should bring your feline friend to a veterinarian for examination.